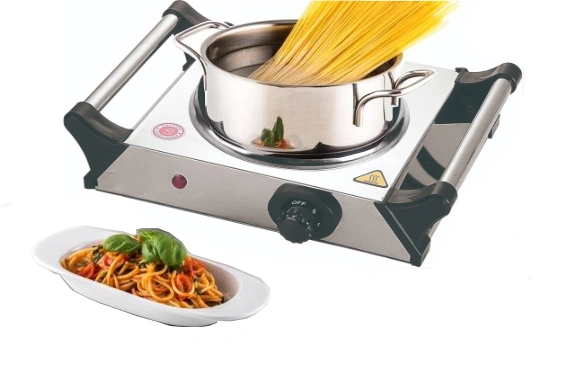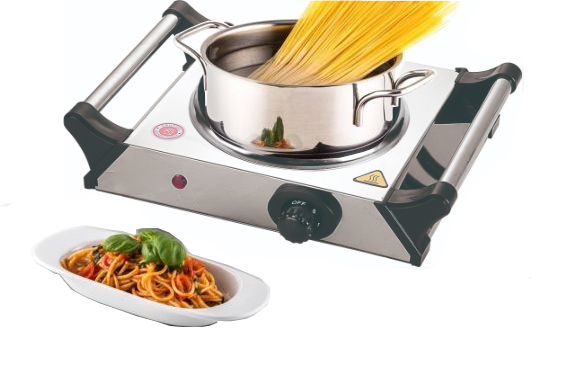 Why you'll love it: With the SX-B09A Cast-Iron Single Burner, you get a burner as effective as that you'd find on any standard residential stovetop.
Calling the SX-B09A Cast-Iron Single Burner a hotplate is rather selling it short, frankly, but that's its lot in the lexicon here, so I'm using the term. Really, though, this powerful 1500-watt or 1000-watt compact appliance is every bit as capable as a large electric burner you would find on many a home's stovetop.
At 6.1-inches or 7.28-inchs in width, it can accommodate large stew pots and smaller sauce pans alike, and with five different heat settings, it can be used to slowly simmer stock or to stir-fry at extra high temperatures.
Using a SX-B09A Cast-Iron Single Burner could not be much simpler: You plug it in, turn the knob to the desired heat intensity,an orange ON light lets you know the device is plugged in and potentially hot. When the cooking is done and the cooktop is cool, cleaning it off is simple, too, thanks to the flat surface of the cast-iron plate.
With more than 1,00,000 sales record so far, the SX-B09A Cast-Iron Single Burner has a good feedback with its customers. One buyer who used it when her stove was out of commission was impressed that it brought "water to a boil and sauted faster than the burner it replaced." Another called it "easy to use" and "easy to clean."
A Decorate Worker from Russia called this hotplate perfect for people who "don't have a stove" like "most college students" thanks to its quick heating, its heat retention, and the fact that "it's well made."
Pros: Fast and even heating, wipes clean easily, quality construction
Cons: Takes a long time to cool down
To find all the best hotplate and offers,visit on the web and send inquiry or email to us.